PIONEER presents at the OHDSI Community Call
Posted on

June 7, 2021

in News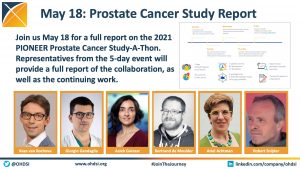 The May 18 OHDSI Community Call featured a presentation from six representatives (Kees van Bochove, Giorgio Gandaglia, Asieh Golozar, Bertrand de Meulder, Ariel Achtman, and Robert Snijder) from the PIONEER Prostate Cancer Study-A-Thon. They provided a full report on the five-day event and the ongoing work that came from it. This study-a-thon was a collaboration between PIONEER , OHDSI and EHDEN.
Want to get involved in this important work moving forward? Here is contact information for the team leads, as well as for PIONEER/EHDEN/OHDSI.
Watch the presentation here.