Critical knowledge gaps in prostate cancer
Critical knowledge gaps in relation to the screening, diagnosis and treatment of prostate cancer patients make clinical practice decision-making difficult and inconsistent; this means that predicting which patients will have the best outcomes with specific treatments is currently suboptimal. These gaps are dispersed throughout the patient's journey (from diagnosis to treatment) and they compromise the quality of care provided to patients, as well as affecting their quality of life.
At the start of PIONEER, the EAU Prostate Cancer Guideline panel and other Key Opinion Leaders were contacted to identify the most important knowledge gaps. Afterwards, the PIONEER consortium performed a prioritisation survey among two stakeholder groups: healthcare professionals including pharmaceutical companies and prostate cancer patients to identify and prioritise a list of the top five research questions in prostate cancer.
In total, 73 healthcare professionals and 57 patients participated in round one of the surveys. Twelve questions were proposed during the first round. For the second round the patients' surveys were also translated into French, German, Italian and Spanish. Forty nine healthcare professionals and 169 patients (including 53 English; 19 French; 31 German; 53 Italian; 13 Spanish) participated in round two of the surveys. The results were analysed by calculating the percentage of respondents scoring each question as not important, important or critically important. These 56 questions were then re-ordered according to the highest percentage for "critically important", enabling identification of the top 5 questions from the two each stakeholder groups.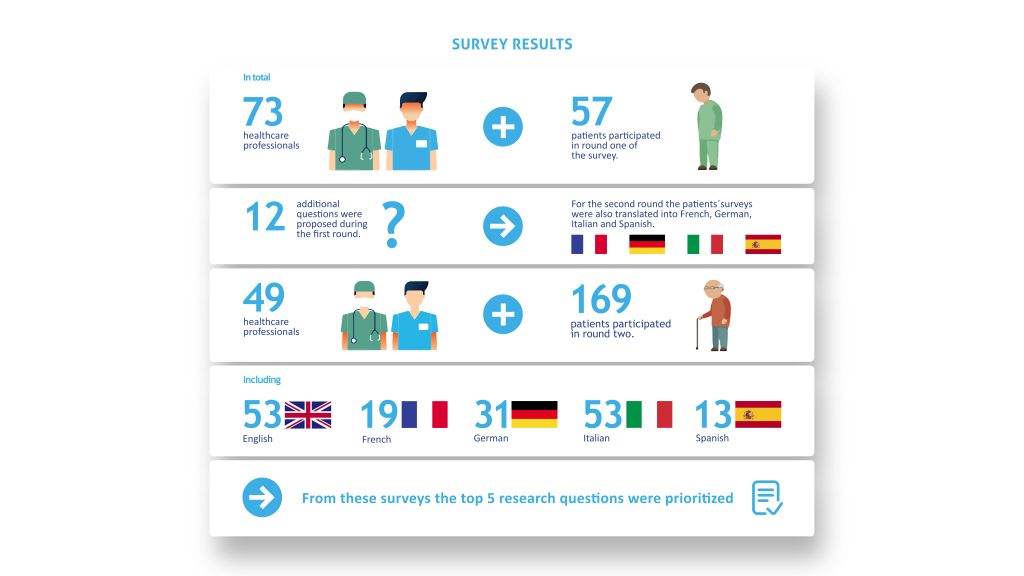 PIONEER's top five research questions are:
What are the relevant tumour-specific and patient-specific variables that affect prognosis of PCa patients suitable for active surveillance?
What is the natural history of PCa patients undergoing conservative management (i.e., watchful waiting) and what is the impact of comorbidities and life expectancy on long-term outcomes?
Currently, the scientific community generally applies the EAU Guidelines PCa risk stratification, stratifying patients into low-, intermediate- and high-risk PCa. This is based on the risk of recurrent disease of patients after radical treatments. However, this risk stratification still has its limits and patients still have very heterogeneous outcomes especially in the high-risk group. What we still do not know is what differentiates patients with lethal vs non-lethal disease, irrespective of their risk stratification.
When should we treat patients, who experience prostate cancer recurrence after primary treatment, and which are the most effective therapeutic approaches?
Which specific patient groups benefit most of upfront chemotherapy? What are the side effects and What is impact on quality of life in real-life practice of chemotherapy in this setting?
For more information on how these questions will be addressed in PIONEER read our data analytics and research team overview.
For more patient friendly information on the project in general download the PIONEER Patient Brochure
Patient testimonials
Patient representatives, Erik Briers and Ken Mastris, reflect on the relevance of PIONEER for prostate cancer patients.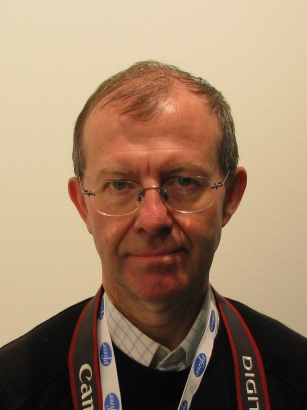 Erik Briers, prostate cancer patient, Belgium
The PIONEER project and its application of real-world data to answer unknown questions relating to prostate cancer is very important for patients. Clinical trials are done with highly selected patients, thus many subpopulations (e.g. patients with kidney problems) are excluded. Once new medicines received market authorisation all patients can be treated with them, but really we have no data on their benefit to patients in the untested subpopulations. Big Data and real-world data can deliver the answer to this question: "Do patients in subgroups benefit?". The answer to this question has the potential to protect patients from unwanted side effects from medicines that may in fact have no benefit to them. It also enables saving across healthcare systems; ultimately, making our healthcare systems more sustainable. This is just one example of many, so yes, PIONEER and the BD4BO programme is of high importance to patients.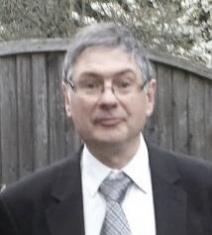 Ken Mastris, prostate cancer patient, United Kingdom
It's time for more research on prostate cancer. Overall it effects nearly as many people as breast cancer, but up to now has received comparatively minimum research funding, and progress made in this field has been limited when compared to other major cancer types. Insufficient knowledge of patient characteristics and risk factors at time of diagnosis means that deciding which patients will have the best outcome with specific treatments is challenging at best. Big Data if properly combined and analysed can bridge this knowledge gap. Therefore, the goals of the BD4BO programme and PIONEER will help future patients. I hope it brings early stratification of patients at diagnosis so patients can make the right choice of treatment for them guided by their urologist. Fixing the gaps in the patient journey will benefit all.
Maria Ribal Dissemination & Communication Lead
Maria Ribal talks about the importance of the patient voice in PIONEER and how effective dissemination is key to the long-term success of the project.