PIONEER Diagnostic & Prognostic Factor Online Search Tool
Background & Development Process
Multiple biomarkers are available to improve prostate cancer diagnosis and prognosis. However, knowledge on which diagnostic and prognostic biomarkers can be used to select patients for a specific treatment remains unclear. Developed by a multidisciplinary team using a four step approach the PIONEER online search tool for prostate cancer diagnostic and prognostic biomarkers aims to bridge this knowledge gap. For information on the methodology behind the PIONEER search tool read the project's systematic review in BMJ Open.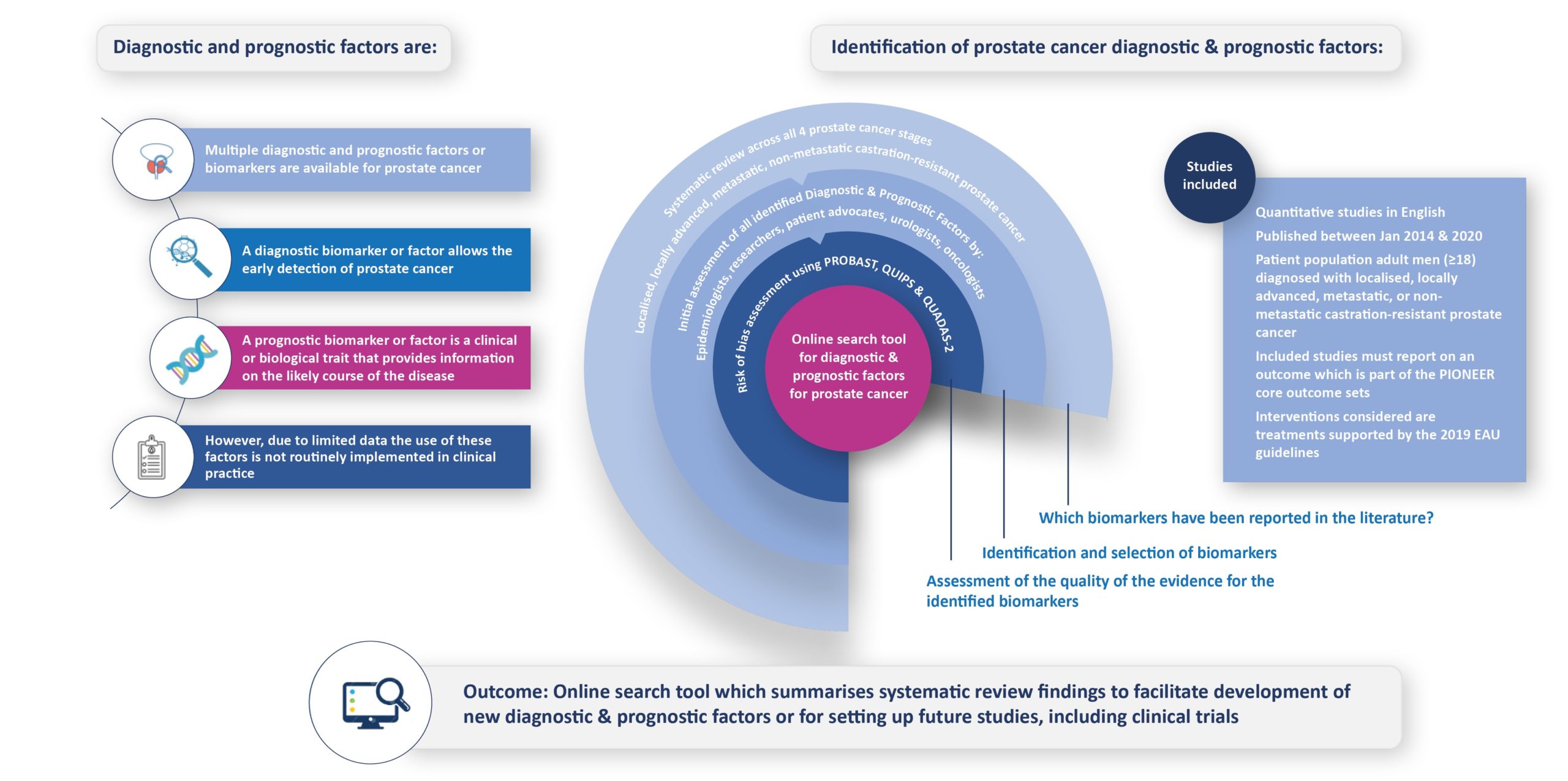 What motivates PIONEER researchers
"Our knowledge on how to approach and treat prostate cancer changes daily. With the purpose of providing our patients with the best possible information we need tools to keep us up to date. Our DPF tool will provide easy access to validated patient and disease specific factors which can be implemented for each patient individually to provide better patient-centered care."

Dr. Lisa Morris
Urology Resident & EAU Guidelines Office Senior Associate
"As one of the researchers, I was very much aware of all the work that was put into this – including the background work from the core outcomes set developed in WP2. For me it was very motivating to turn all this work into an online platform where it can be showcased and used. Dan and Wolfgang did agreat job in translating our groundwork into this platform and the platform development was really efficient."

Dr. Megan Molnar
Epidemiologist Bayer AG
"Diagnosis and prognosis play a vital role in patient management and decision making. The assessment of DPFs is one of the major objectives in clinical research and I was excited to take part in such an important project."

Dr. Michael Lardas
Urologist Greece & EAU Guidelines Senior Assoicate
"It stood out how quickly we went from first discussions to the first working prototype and further to the final product. We were able to accomplish this due to the close collaboration with everyone involved as well ast he lean setups and tool chains which we developed within DTLab. As for my motivation, I particularly enjoy participating in projects that facilitate collaboration with other external organizations and thus bringing experts from across industry and academia and their insights together."

Dan Plischke
System Architect Digital Technologies Lab Bayer
"This project is important for Bayer. It shows Bayer's engagement to key stakeholders including patients, regulatory agencies and public institutions. It also further demonstrates Bayer's continuous commitment to prostate cancer patient care. I am fortunate to have the opportunity of working with a brilliant and dedicated Bayer team, Megan, Dan, and Wolfgang together with our WP2 public partner King's College London, to make this go live."

Dr. Jihong Zong
Physician Epidemiologist RWE Global Medical Affairs Oncology Bayer AG
"It was a truly cross-functional project where we brought together expertise from very different areas. In my case it is expertise about natural language processing and annotation of digital documents. In Dan's case it was the programming skills, and other colleagues brought in the medical knowledge etc. Thus, we brought together experts from different fields to have all those components that were necessary to make this work."

Dr. Wolfgang Thielemann
Head of Semantic & Knowledge Graph Technologies Bayer AG