Work packages
Launched in May 2018, PIONEER has a 5 year deadline in which to accomplish its objective of gathering, harmonising, analysing and combining broad data-sets on the diagnosis and treatment of Prostate Cancer into a comprehensive big data platform.

To achieve its goal PIONEER has developed 8 individual work packages: project management and coordination (WP 1), 4 core research themes (WP 2-5) and 3 cross-cutting support themes (WP 6-8). In addition, PIONEER has identified, through a comprehensive prioritisation exercise, the top 5 research questions for prostate cancer which all the relevant stakeholders (healthcare professionals, pharmaceutical companies, and patients) agree need to be, and can be, answered through the use of Big Data and Big Data analytics. These research questions will be overarching with each WP contributing to their investigation and, as such, will be used to validate PIONEER's framework and provide valuable insights into the diagnostic and treatment pathways of the different stages of prostate cancer.

In meeting this challenge PIONEER will improve patient treatment by enhancing the decision-making and diagnostic expertise of all stakeholders.

Structural overview PIONEER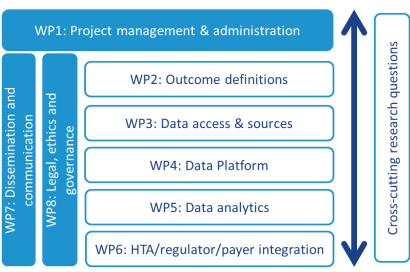 The 5 prioritised research questions:
What is the clinical benefit of determining patients' genetic risk profile regarding prostate cancer management, especially in the screening setting?
How does the rate of side effects / local problems (including secondary / palliative treatments needed) compare between treatments (open, laparoscopic, robot surgery, with or without lymph node dissection; brachytherapy, different forms of external beam radiation therapy), and which patient-specific factors are associated with these adverse secondary endpoints?
What is the natural history of prostate cancer patients undergoing conservative management (i.e., watchful waiting) and what is the impact of comorbidities and life expectancy on long-term outcomes?
What are the relevant tumour-specific and patient-specific variables that affect prognosis of prostate cancer patients suitable for active surveillance?
Is there a therapeutic benefit of treating the local tumour in patients diagnosed with (oligo)metastatic prostate cancer?
Questions 1 and 4 have been chosen as the first two cross-cutting research questions and will act as pilot studies to assess PIONEER's functioning and structure.

Furthermore, PIONEER has mapped the current diagnostic and treatment care pathways for localised, advanced, metastatic and castrate-resistant prostate cancer. PIONEER's  framework together with the prioritised research questions will be used to further validate and optimise these care pathways.