Critical knowledge gaps in prostate cancer
Critical knowledge gaps in relation to the screening, diagnosis and treatment of prostate cancer patients make clinical practice decision-making difficult and inconsistent; this means that predicting which patients will have the best outcomes with specific treatments is currently suboptimal. These gaps are dispersed throughout the patient's journey (from diagnosis to treatment) and they compromise the quality of care provided to patients, as well as affecting their quality of life.
At the start of PIONEER, the EAU Prostate Cancer Guideline panel and other Key Opinion Leaders were contacted to identify the most important knowledge gaps. Afterwards, the PIONEER consortium performed a prioritisation survey among two stakeholder groups: healthcare professionals including pharmaceutical companies and prostate cancer patients to identify and prioritise a list of the top five research questions in prostate cancer.
In total, 73 healthcare professionals and 57 patients participated in round one of the surveys. Twelve questions were proposed during the first round. For the second round the patients' surveys were also translated into French, German, Italian and Spanish. Forty nine healthcare professionals and 169 patients (including 53 English; 19 French; 31 German; 53 Italian; 13 Spanish) participated in round two of the surveys. The results were analysed by calculating the percentage of respondents scoring each question as not important, important or critically important. These 56 questions were then re-ordered according to the highest percentage for "critically important", enabling identification of the top 5 questions from the two each stakeholder groups.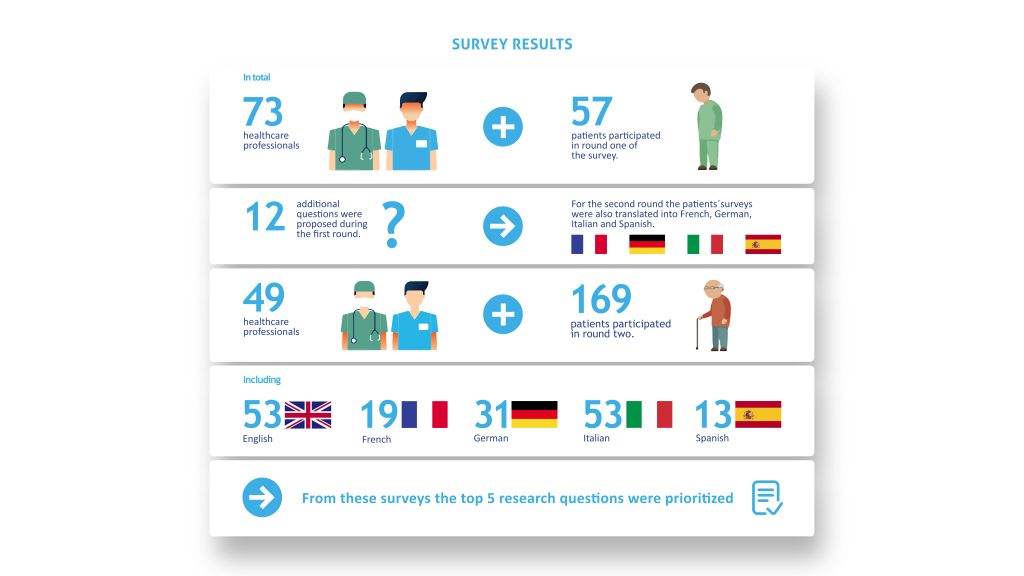 PIONEER's top five research questions are:
What are the relevant tumour-specific and patient-specific variables that affect prognosis of PCa patients suitable for active surveillance?
What is the natural history of PCa patients undergoing conservative management (i.e., watchful waiting) and what is the impact of comorbidities and life expectancy on long-term outcomes?
Currently, the scientific community generally applies the EAU Guidelines PCa risk stratification, stratifying patients into low-, intermediate- and high-risk PCa. This is based on the risk of recurrent disease of patients after radical treatments. However, this risk stratification still has its limits and patients still have very heterogeneous outcomes especially in the high-risk group. What we still do not know is what differentiates patients with lethal vs non-lethal disease, irrespective of their risk stratification.
When should we treat patients, who experience prostate cancer recurrence after primary treatment, and which are the most effective therapeutic approaches?
Which specific patient groups benefit most from upfront chemotherapy? What are the side effects and what is the impact on quality of life in real-life practice?
These priorities will now be addressed by identifying the appropriate datasets for each question and subsequent systematic analysis and modelling approaches.
Interested in where our data comes from? Find out more at PIONEER data sources.
James N'Dow Project Coordinator
James N'Dow discusses the importance of the project and reflects on the first twelve months of the consortium's work.